Today I'm sharing my favorite blog post of the week, written by a blogger with username cranklin.

Have whatever opinion you want about crypto-currencies, Bitcoin, and so on, but many in the business world take blockchain technology very seriously. (I read about it regularly in The Economist, and a new book by David Birch entitled Before Bablyon, Beyond Bitcoin, imagines a new crypto-currency world order with money entering a new evolutionary state, with everything from governments to community churches issuing their own coins; the book is on my reading list.) Perhaps the best (and most-fun) way to lean about the technology is to create your own crypto-currency. Then share it with your friends and family because why not.

Perhaps at some point in the future I will create my own coin and write about it as well. If I do, I will be using this post as a reference.
cranklin.com
I've been itching to build my own cryptocurrency… and I shall give it an unoriginal & narcissistic name: Cranky Coin.
After giving it a lot of thought, I decided to use Python. GIL thread concurrency is sufficient. Mining might suffer, but can be replaced with a C mining module. Most importantly, code will be easier to read for open source contributors and will be heavily unit tested. Using frozen pip dependencies, virtualenv, and vagrant or docker, we can fire this up fairly easily under any operating system.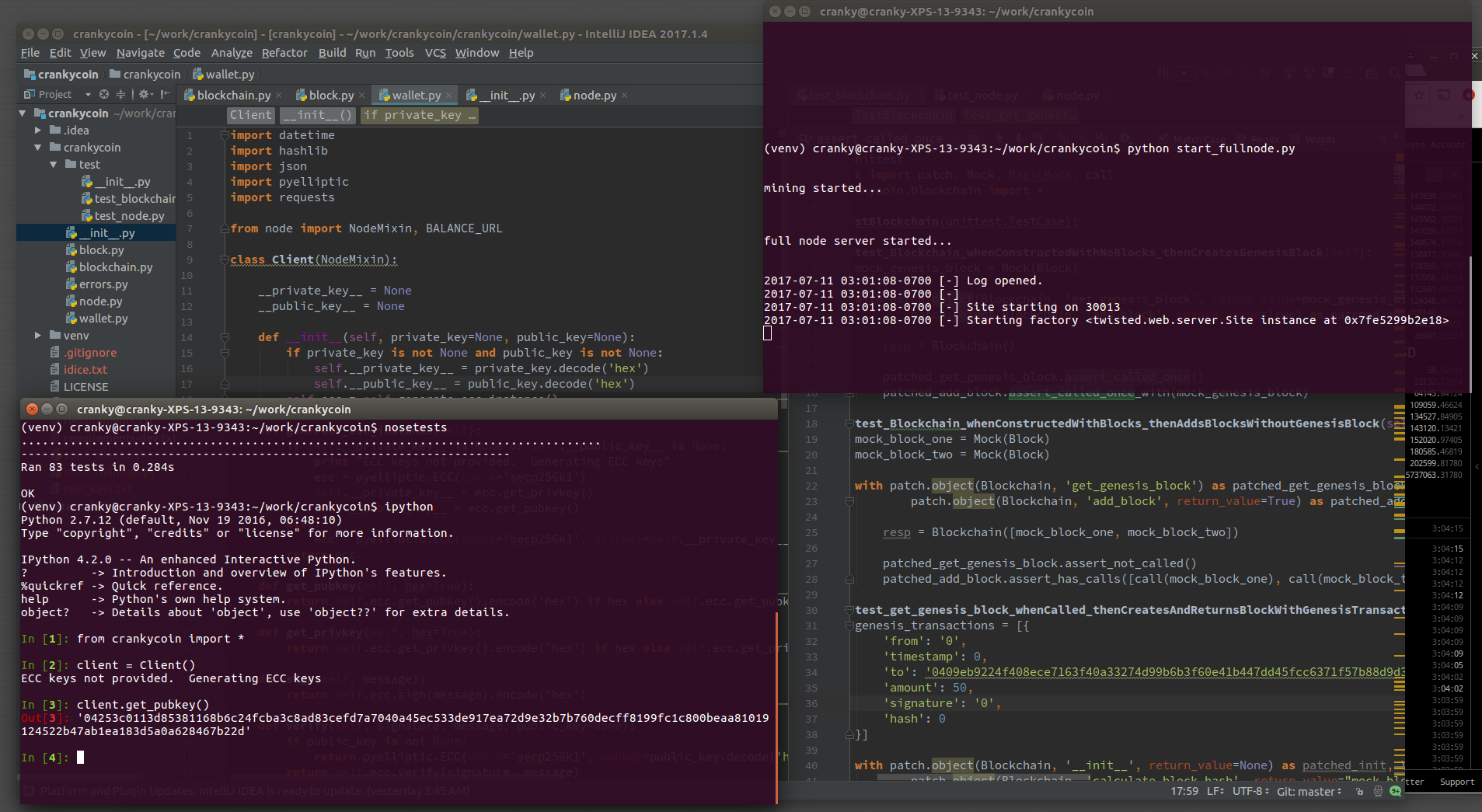 I decided to make Cranky coin a VERY simple, but complete cryptocurrency/blockchain/wallet system. This implementation will not include smart contracts, transaction rewards, nor utilize Merkel trees. Its only purpose is to act as a decentralized ledger. It is rudimentary, but I will eventually fork a few experimental blockchains with advanced features from this one.
The Wallet
This currency will only be compatible with…
View original post 1,688 more words